Laos - Land of the Million Elephants
A travelogue written by Bernhard Heiser
www.asiaphoto.de > Laos Pages > Travelogue

---
part 1: From Berlin to Bangkok
Introduction
"Why Laos?", I was asked many times before I left for my trip. As a friend of unconventional travel, good Asian food and warm climate, the decision was quickly made. Inspired by the beauty of northern Thailand some years ago, I decided to travel again to this region.

Laos is the least develloped of the three former French Indochina states (including also Vietnam and Cambodia). After many years of virtual isolation, Laos has become more open towards the outside world. However, caused by the lack of infrastructure, the number of visitors are still low compared to its neighbours Thailand or Vietnam. There isn't too much foreign influence, so Laos still represents the old Indochina. Unspoiled from mass tourism, Laos offers plenty of adventures for the individual traveller.

If you like a country depends on what you experienced on other trips and what you are really looking for. I just spent two weeks in Laos itself. Although I did not stay very long at most of the places, I think I could feel what makes Laos different from most other SEA countries. That feeling is something magic that is difficult to describe. I was overwhelmed by the peaceful and laid back atmosphere. Almost everyone I met was very friendly and helpful. People are not just after your money. Probably all of Asia was like that 30 years ago.

Here's an overview of my route:
Berlin - London - Bangkok - Vientiane - Luang Prabang - Pakbeng - Mouang Houn - Udomxai - Luang Nam Tha - Muang Sing - Vieng Phuka - Huay Xai - Chiang Khong - Mae Sai - Chiang Rai - Bangkok


Sunday, Nov 22, Swinging London
Its a cold morning in Berlin, about 0 degrees centigrade and it starts to snow again. The perfect day to leave for Asia. Everything is white around me, when I walk through the little park near our house. I take the bus to the airport and check in my flights to London and Bangkok. What to do with eight hours until the connecting flight? I decide to buy a day-ticket and take the underground from Heathrow airport to London City. It takes about one hour, but is much cheaper than the new Heathrow-Express (15 min.). It's my first visit here, so a little bit sightseeing wouldn't be bad. Westminister with Big Ben, Piccadilly Circus, Trafalgar Square, a short look into the National Gallery, Leicester Square with it's many theatres around. Almost all shops are open on Sunday, the city is festively illuminated and crowded with people. Interesting shops, nice pubs and restaurants everywhere, a good place to spend a lot of money. I catch a bus and underground back to the airport, where I relax in the lounge and have some phone calls. On the flight to BKK, I get a good seat with space for my legs next to a girl, who is travelling to Sydney. Although she is only 22, Anne seems to be very travel-experienced and we spend much time talking. I'm pleased about the good start of my trip with three weeks of travel ahead. A good position to be in.




Monday, Nov 23, Arrival in Bangkok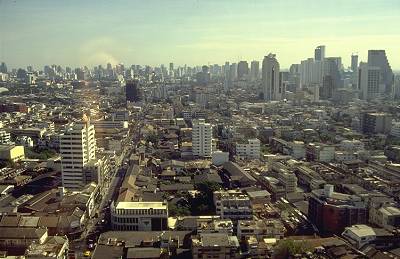 Bangkok skyline
At 3.30 pm local time we touch the bumpy runway of Bangkok's Don Muang airport. I say goodbye to Anne, change some money, put off my warm pullover, grab my backpack and here we go. As usual, I'm heading to the bus stop some 100 meters left from the airport entrance, ignoring all touts and taxi drivers. Lots of girls in their blue and white school-dresses are waiting there. A bit surprised, they look at me, smiling. The first bus doesn't even stop, it's too crowded. Two minutes later, another bus of line 59 (red bus, blue number) stops and I somehow manage to get on it. The fare of only 3,50 Baht.is still incredibly cheap. This time, it takes about three hours to make the 15-20 km to the city, most of the time is spent just waiting in endless traffic jams. When the bus moves, hot, polluted air is blowing in my face through the open windows, sometimes mixed with the delicious smell of foodstalls near the road. Wow, welcome back to Bangkok. For those who want just a quick and convenient ride to the city, the airport aircon bus to Sanam Luang or a taxi would be the right choice. For all others, I highly recommend the "slow bus" to get a first, real impression of Bangkok. There is another farang (westerner) on that bus, a couple of seats behind me. When the bus driver makes clear that he stops here and we have to take another bus, we have a look at my map, but are not sure, where exactly we are. People here seem not to be very familiar with city maps, noone of the locals can show us our position, even the drunk policeman is no big help. Finally another bus 59 arrives and we go on to Democracy Square. Roland is from Cologne and on his first trip to Thailand. We decide to share a room and walk up Sam Sen Road to the National Library where we turn into a small sideroad and take a big and clean room in Sawatdee Guesthouse for 300 Bt. I like it more here than in those crowded and noisy places in Kao San Road. After checking in, we walk down the small, quiet roads to the Chao Praya river. I'm surprised about the "low" air temperature in the evening, the estimated 25 degrees are really comfortable now.

Tuesday, Nov 24, Bangkok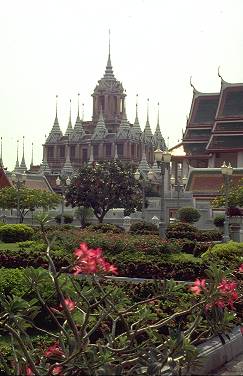 Wat Ratchanatda / Loha Prasat

We get up late and have breakfast in our family-run guesthouse, delicious fruitsalad (papaya, mango and banana) with yoghurt. The owners are really friendly and helpful. Every possible service from organized tours to traditional massage is available here, and they seem to earn good money with it. They are running that business for many years already, everything seems perfectly organized to me. Today, I want to check out a tailor who was recommended to me some time ago. Unfortunately, his shop is far south at the end of Sukhumvit Road and it takes me a long time to get there. I learn about the different routes of normal and articulated bus no.11. After changing buses several times, I reach Sukhumvit Road and make my way down to soi 105. I watch the construction works on the new overhead railway system, an Italian-Thai joint venture. Huge concrete parts are lifted up to connect the already built piers. Where the new stations are already finished, Sukhumvit Road has changed to a "tunnel" now with only little sunlight left through. I wonder if the project will significantly improve the traffic situation here.
Finally, I reach the tailor shop opposite soi 105 with a yellow sign reading POWMAN. The friendly daughter of the owner speaks fairly good English and soon we discuss the details concerning material, colours and style of my new, custom-made suit. I choose hi-twist wool, a mixture of wool and cotton, in dark blue. She tells me her father will make the suit. Unlike the most tailors in the tourist area, he does not employ lots of cheap indian workers. I take the aircon 11 bus back to Sanam Luang and walk back to our guesthouse, where I meet with Roland. We have a delicious dinner at various foodstalls in the Banglampoo quarter and then take a bus to Sukhumvit Rd. again. The area is packed with tourists and all sorts of amusements. Along the road there is a nightmarket with souvenirs and clothing. Since Roland wants to get an impression of nightlife in Bangkok, we have a walk down to soi cowboy where we enter a bar with a show coming up. We take a beer for 80 Bt. and watch the show. It's not bad, but after a while things start to repeat. The place is not actually a brothel, but of course, guests are allowed to leave with a girl if they pay a small "lending fee" to the manager. We leave (without) and take a tuk-tuk back, as there seem to be no more buses at this time. The fast ride through almost empty (!) streets is big fun. Although their number has decreased sharply since my last visit 6 years ago, tuk-tuks are available almost everytime.

Wednesday, Nov 25, Bangkok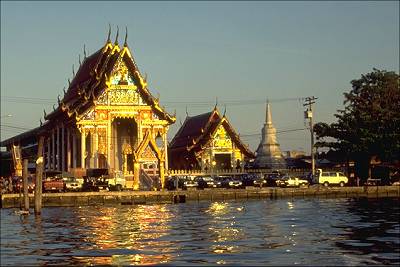 View from the express ferry

My departure for Laos is delayed a little bit, because I have to try my suit on Thursday. That doesn't matter, it's great to be in Bangkok again after a long time and there are still many things to be seen here. We have breakfast in the "untitled cafe" oppposite our guesthouse. Next to it is a small internet cafe. The strange thing is, it's always closed when we pass by. We take the express ferry from Thewet to Ratchawong. This is perhaps the fastest way to get from A to B in Bangkok and very convenient too. The guy who is steering the powerful ferry knows how to do his job, the short stops are really efficient. He is directed by a young boy with a whistle. We cross Chinatown with it's endless small, crowded lanes. There is absolut nothing you can't buy here. We stop to drink fresh made sugar-cane juice and watch the action around us. We move on and reach the railway station, where I buy a ticket for the Thursday night train to Nong Kai. After my bad experience with a sardine-packed 3rd class train to Chiang Mai some years ago, I decide to invest 428 Bt. in a ticket for 2nd class sleeper. Compared to European standards, this is still cheap for a 12 hour train ride! Since we are hungry, we go back to Chinatown and look for a good place for lunch. Finally, we end up in a small, pittoresque passage almost completely filled with a chinese hawker stall.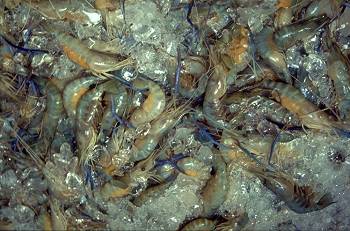 On the market
We sit down at a table after choosing our food from the cooking pot. I have a hot, spicy soup with vegetables and meatballs. We talk with an old, chinese man at the table next to us. He spent all his life here in Chinatown, working in the import/export business. Later, I learn that a big part of the trading and financial activities in Thailand are controlled by the Chinese. We take the express ferry again for our way back and enjoy the ride and the sunset. In the evening, we head off to Ramkamhaeng university, because I heard there are some non-touristy places like student pubs. After having excellent (indonesian-muslim?) food in a simple restaurant we have a look in the MTV music bar in Ramkamhaeng soi 24. Most guests are quite young here, sitting at tables, chatting and drinking. They play loud, mostly western disco and pop music, but there is no dancefloor. The place is OK for a beer.

Thursday, Nov 26, Bangkok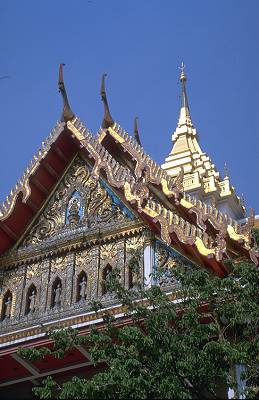 Wat in Chinatown
This time, I take the correct bus and reach my tailor quicker than expected. There is not too much outbound traffic in the morning. I spend the afternoon with Roland exploring Klong San Sap. We take some pictures in the area between Phetchaburi Road and World Trade Center, which provided interesting contrasts between the simple, wooden architecture of klong houses close to the water and huge hotel skyscrapers in the background. Strange to find places like that in the middle of Bangkok. From Ratchdamri Road pier we take a klong boat out of the city and have a pretty long ride for 9 Bt. Many properly dressed office workers and schoolchildren are on their way back home. We return with another boat and get off at Golden Mount. A very nice trip with many interesting views. Back at the guesthouse, I take a shower and pack my stuff. I say goodbye to Roland and we exchange our adresses. He plans to stay in Thailand for another two weeks before moving further south to Malaysia and Singapore. There is no more time for the internet cafe (yes, it's open this time!), I don't want to miss my train. I catch the next bus and change at Sanam Luang to bus 25, which passes near the railway station. When I get to the platform, the train is just slowly pulling in. I buy a bottle of water and a beer and take my seat in car No.1. A girl comes along selling food. I choose chicken curry on rice, all wrapped in plastic. That's what I like about Asia: There is no reason to be hungry at any time. Good food is available almost everywhere. At 7.20 pm the train leaves the station, only 20 minutes late. The track out of Bangkok is very bad, so we move very slowly for about half an hour. At the other side at the window a Thai girl is studying a french exercise book. Later, at Don Muang station I ask her about the book and if she likes to talk with me in French. She moves to the seat next to me. It turns out that her English is better than her French, so we do not speak French. However, we quickly get into an interesting conversation. Her name is Jin, she is 19 and a language student at Bangkok university. We talk about her studies, living in Bangkok, and, of course, travel. She is going to visit some friends in Vientiane, so we have the same way. Later, we get white sheets and the seats are switched to sleeping position. Everyone is busy, prepairing for the night. We move to our beds. Jin smiles at me, "Bonne nuit". This is the first time I travel with a walkman. I fall asleep to the sounds of R.E.M.'s new album "up", mixed with the monotonous rattle of the train.

---

Overview
Photo Licensing
Top of page
Next part