Laos - Land of the Million Elephants
A travelogue written by Bernhard Heiser
www.asiaphoto.de > Laos Pages > Travelogue

---
part 2: Vientiane
Friday, Nov 27, Crossing the border to Laos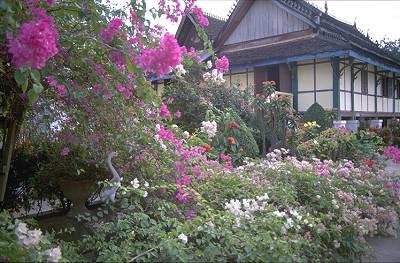 Inside the Wat Si Saket complex

I slept better than expected. Before we reach Udon Thani with the first sunlight, the beds are folded away. Jin is reading a newspaper, I content myself with the pictures (it's in Thai...). When we reach Nong Kai at 7.30 am, lots of tuk-tuk drivers are already waiting to get their share of the passenger load. I take a tuk-tuk to the border (40 Bt.), which is a few kilometers away. The driver stops in front of a shop with the sign "Visa Service". A young, french-speaking couple is waiting there too, undecided what to do. I tell them the border will open at 8 am and walk over to the Thai immigration office. I get my exit stamp and after a while I get on the shuttle bus to cross the bridge (10 Bt.). The 1240m Australian-financed bridge is, except for our bus, totally deserted. There are no cars or pedestrians crossing it. The bridge is the second along the Mekong's entire lenght, it was erected in 1994. On the other side, we stop at Lao immigration and customs, where I get my visa for US$ 50. I pay another 20 Bt. stamp fee, I suppose it's for the entry stamp of Vientiane province. I wait for the two french and we take a "jumbo", a bigger version of a tuk-tuk. We negotiate 150 Bt. for the 20 km to Vientiane. I tell the driver to go to the Vanasinh Guesthouse, which was recommended in a rec.travel.asia newsgroup posting.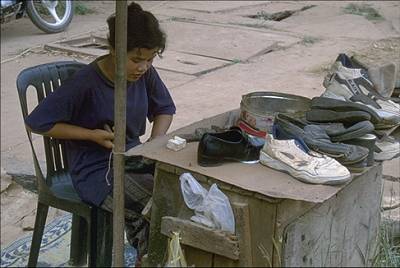 Shoe repair at the crossroad

We pass the outskirts of Vientiane with simple wooden houses and children playing on the dusty street. We reach the morning market and get stucked in a small traffic jam. The vehicles are mainly tuk-tuks, bicycle samlors and chinese pick-ups. My first impression of Laos is not that of a communist country. There were no political signs, no massive statues of leaders in peasant shirts, no red banners. The owners of the Vanasinh speak fluent English and French, the place is quite busy when we get there. I take a large, clean single room with fan and bathroom for US$ 8. [ That turned out to be the highest rate for a room I payed on the whole trip.] I don't check out any other guest houses, because I'm not going to stay long in Vientiane. I have a rest in my room and fall asleep for two hours. When I wake up, I'm very hungry. First I go to a bank to change money. I cash a 100 DM traveller cheque, but they don't give me the expected plastic bag full of money. However, my purse gets pretty thick when it's filled with 225.000 kip. 5000 kip is the biggest note, they come in bundles of ten. In a supermarket I buy a croissant, yoghurt and ice tea.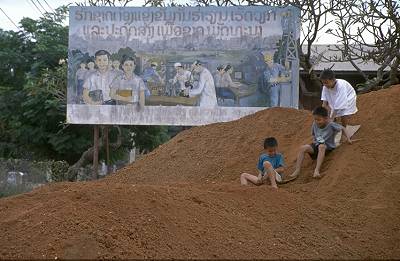 Playing kids in front of a "communist" poster

I pay 5.000 kip for all. Is that much? I still do not have the right feeling for the Lao currency. On my way to the patuxai (Victory gate) I pass many foodstalls and have another snack. It's getting dark already and I go back to the Mekong river. Many westerners are on the streets, I suppose many of them are just short-time visitors in the capital who do not go further north. A beautiful sunset lets the river shine in a magical pink and blue light. Later, I try to find the Dong Palan nightmarket. No success. Probably it moved to another place due to the road construction works. I don't want to search any longer and go back. As I haven't seen much of the city yet, I decide to stay here for another day.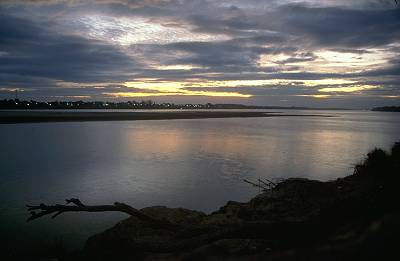 Sunset at the Mekong
Saturday, Nov 28, Vientiane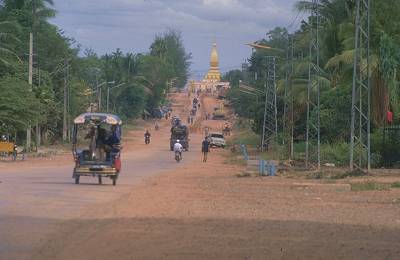 Road to Pha That Luang

Beds seem to be harder in Laos. I didn't sleep really good this night. Besides, I got my first mosquito bite. For breakfast I cross the street and walk over to Sweet Home Bakery. After fresh croissant and tea I feel fine again. The French left a lot of their culture here, fresh baguettes are sold everywhere in the morning. I walk again to the patuxai monument. After climbing the stairs and enjoying the view from the top I proceed to Pha That Luang. It's my second day in Vientiane and many of the travellers I've seen already somewhere yesterday. Pha That Luang is the most important national monument in Laos. In the present form, it has been reconstructed in 1935 by a french university. The golden stupa is 45 m tall and reflects magically the sunlight. Near the northern temple a small, unpaved road leads to the next village. After walking for ten minutes, nothing reminds me at a capital anymore.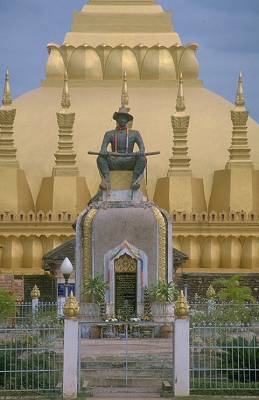 Statue in front of the entrance

It's quite and peaceful here, children are playing with marbles. From time to time a motorbike passes by. Fishermen work near the ponds, I hear someone playing a guitar. On my way back to the temple I sit down at one of the foodstalls under a huge tree and try foe, the local noodle soup. It is served with a plate of fresh lettuce and mint. Hmm, delicious. But it's quite hot and I gratefully accept the offered glass of cold water. I take a samlor back to the city. The planet internet-cafe is closed, they have no connection today. Wat Si Saket is closing in five minutes. I can have a short look inside without having to pay. The total number of Buddha statues and images in the temple is more than 6.000 ! The Plaza Hotel offers internet service and I check my mail. They charge 2 US$ per 10 minutes. I send mail to my friends and collegues home and to Lucia, a girl from Italy who I want to meet in Luang Prabang.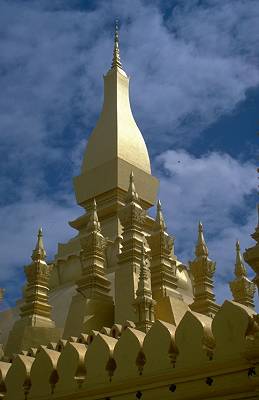 Stupa of Pha That Luang

She takes another route, travelling down the Mekong from Huaxai. I hope she will receive my mail, probably she's already in Laos now. After 30 minutes "office work" I walk down to the Mekong, where I meet Doug from California and Jane from Boston on the new buildt embankment. Jane just arrived here from trekking in Nepal. We watch another spectacular sunset. In a nearby open-air restaurant I order a Beer Lao. Wow, the best beer I ever had in Asia! They also serve good food here, so I stay for dinner. Fried noodles with chicken and egg seems to be the special dish here. Sugar, salt, dried chili, chili sauce, tomato sauce and fish sauce are put on the table for additional seasoning. I share the table with Jan, who introduces himself as employee of an Australian company which is engaged in agricultural development. He lives in Australia since 18 years and just came here yesterday to work four weeks in Vientiane. We talk about travel in Laos and I learn that most NGO employees are not allowed to use Lao aviation anymore, because flying with them is considered to be unsafe.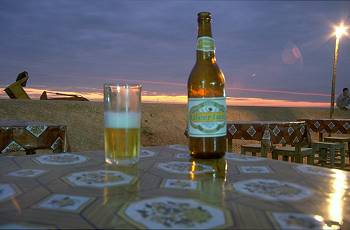 My first Beer Lao

They are behind with paying the leasing rates for the aircrafts, so some (the newer models) are already hold back abroad. We check out two so-called nightclubs, but there is almost noone in and we prefer to drink another beer outside. I return to the guesthouse and take a shower after the long, warm day. At 10 pm I try again to find some entertainment, this is the capital after all. The time seems to be alright now. When I enter the Victory club, the place is crowded with young people, among them two or three foreigners. Many are dancing to lao and western disco music. Anouk Cabaret in the Anou hotel is next. A live band is playing lao folk, people seem to be older here. By law all discos and nightclubs are supposed to close by 11.30 pm, at midnight everything is virtually dead.

Sunday, Nov 29, Road to Luang Prabang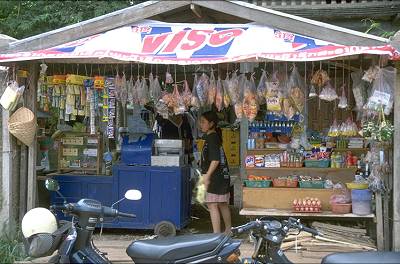 "Supermarket" in a small village

Somehow I manage to get up at 5.30 am, it's still dark outside. I walk over to the evening market, where a bus is already waiting. The ticket to Luang Prabang is 25.000 Kip, I get one of the last seats. I'm surprised, because I expected to find one of these old trucks with benches mounted on the back. We leave Vientiane at 7 am. The road is in good condition and we pass several small villages. Tree-covered limestone cliffs come in sight. The landscape is getting more and more bizarre. Following the winding road uphill, we reach Vang Vieng, where some guys from the States and a girl from Austria join us. All are really enthusiastic about this place and the beautiful nature that surrounds it. At a checkpoint - I suppose it is a provincial border - all passengers have to get off and show their passports. Later, we have a break at a small restaurant. The road is still winding up, for a short time it's raining. The rain stops and we climp the rooftop, where is space for us to sit behind the luggage. Hey, that's much more fun up here! The panorama is really overwhelming, all along our way we're treated to marvelous views. We enjoy it for about half an hour, until the bus has to brake sharply, when a truck suddenly appears in the middle of the road behind a bend.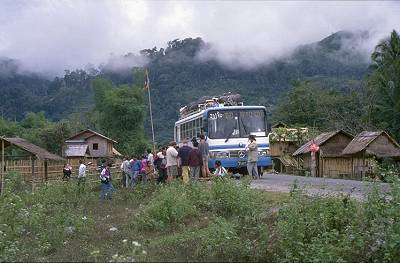 Checkpoint control

Our driver avoids a crash by keeping extremely right. To our luck, we have the mountain to our right, but unfortunately, there is a deep ditch between road and mountain. The bus slowly topples over to the right side. The other passengers have to climb out of the windows, we simply jump off the roof. In the following four hours nothing much happens. The drivers are loudly discussing who's wrong and right, the passengers are sitting on the road, some having a picnic. When two policemen finally arrive on a small motorbike, five more buses and trucks have lined up. Nobody had passed us, although the road isn't blocked. It's getting dark. We take our luggage off the roof, move to one of the other buses and finally go on. We arrive in Luang Prabang about 9 pm with some difficulties to get a room. Most places are fully booked, the town is surprisingly quiet and dark at this time. Finally, we wind up at the Viengkaeo hotel (not recommended), where I realize for the first time that we are in a communist country. The whole place looks run-down, the girl ar the reception desk shows not much interest in doing anything for us.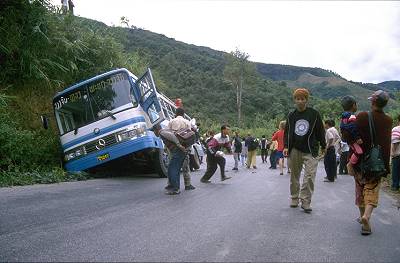 Bus accident

However, we get rooms and I take a double with bathroom for 15.000 Kip and share it with Ken. He is from south Laos, but lives in the States, holding an US passport. After a long time abroad he is on a two-month visit to his home country. As we're really hungry after the long ride, we have dinner in the restaurant just opposite the hotel. The chicken with ginger is OK there and with a bottle of Beer Lao on the table I feel better now.

---

Overview
Photo Licensing
Top of page
Next part