Laos - Land of the Million Elephants
A travelogue written by Bernhard Heiser
www.asiaphoto.de > Laos Pages > Travelogue

---
part 6: Muang Sing / back through the jungle
Sunday, Dec 6, Muang Sing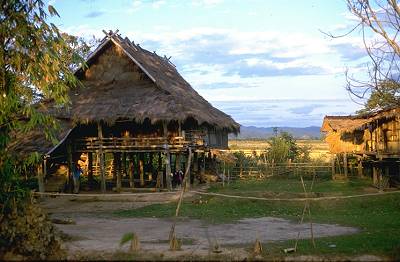 On the bicycle tour

I enjoy the fresh baguettes for breakfast and prepare everything for leaving. I dont't have to pay for the accomodation, the night in the garage was free! It takes about ten minutes to walk to the small bus terminal. It takes two hours to get to Muang Sing. The small road is full of bends and seems to exist only of large potholes. During our ride, many of the locals spew out of the windows. Seems to be a quite common habit here, nobody pays much interest to that. There are about ten guesthouses now in Muang Sing. Together with Tom from Norway I take a room for 6.000 Kip in the guesthouse next to the morning market. We have lunch in one of the restaurants at the main village road. My beef laap with sticky rice turns out to be quite hot, I feel a slow but insistent burn in my mouth. Laap is a typical Lao salad of minced meet tossed with lime juice, garlic, green onions, mint leaves and chillies. Down the road there is a small bicycle shop and we rent two old, black chinese bikes for 2.000 Kip each. Although it's only 10 km to the chinese border, we decide to go in the opposite direction to have a good view from the mountains. Out of the village, we turn left in a small path leading to the fields. We try to walk down to the river to cross it, but it's difficult to get there. Later, we find a good view down to the rice-paddies after we went up to a small village and took a jungle path to climb a hill.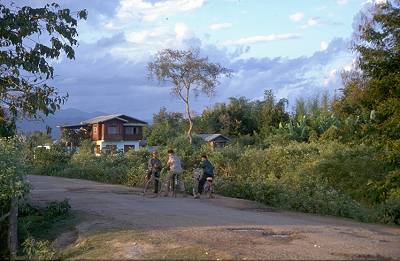 On the road to Muang Sing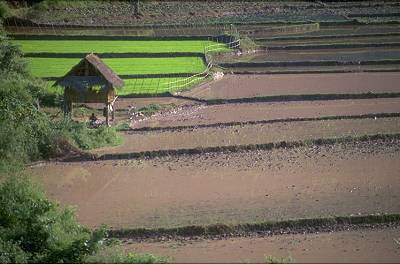 Rice paddies near Muang Sing

On our way back we stop at a meadow to collect magic mushrooms. I try to take a picture of a group of small children in a village, but each time I take my camera they run away screaming. In the warm light of the late afternoon sun we enjoy the easy ride back to Muang Sing. The surroundings of this remote place are really beautiful and perfect for short bike or hiking tours. In the evening, I meet Aaron and Nirit in the restaurant. They took the speedboat from LP to Huayxai and arrived here Saturday afternoon.


Monday, Dec 7, Muang Sing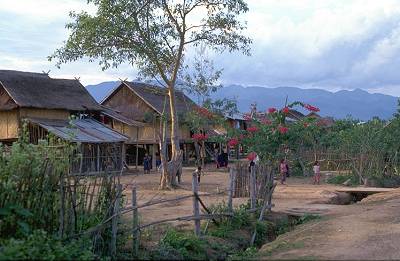 Beautiful village, surrounded by mountains

When I wake up at 6 am, the morning market is already in full swing. I have sweet rice and fried coconut-balls(?) for breakfast there. The talaat nyai market once was the biggest opium market in the golden triangle. Today it's a venue for fresh produce, meats and clothing, sold by various hilltribe people from the region. The market is crowded with people, there are all kinds of sounds and smells. Vegetables, piles of freshly chopped meat, hawker-stalls everywhere. After one hour I've seen it all and go back to the room. It starts to rain, so I sleep for another hour. Its noon, the rain hadn't stopped yet. Everything is packed, I exchange my email-adress with Tom and go. A pickup has already filled up with some passengers, 30 minutes later the car is full and we go. After some more stops in the village it is more than full. We all get more or less wet on our way to Luang Nam Tha. In the Darasawath Guesthouse everything is booked out, so I take the bed in the garage again. I'm already familiar with the place, the owners with their small daughter Mimi are really nice people.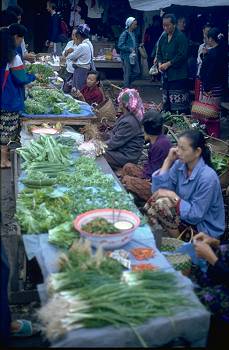 Morning market

The rain doesn't stop, it's definitely no day for taking pictures. I spend the afternoon under the roof of the garden restaurant, reading and having some excellent food. Children on bicycles on their way back from school pass by, most of them holding umbrellas against the rain. Ben shows up for dinner, he came down here from Udomxai yesterday and stays in another guesthouse. We spend the whole evening in the restaurant, having more food and drinking a couple of beers. Music and (political?) speeches are transmitted via loudspeakers all over the village. Sounds like a shortwave transmission, sometimes the quality is very bad. 9.30 pm, time to have a last fruit-shake, because at this time electricity usually is turned off in the village. It's still raining.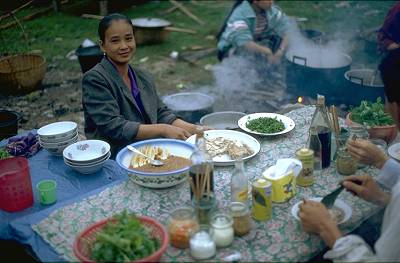 How about soup for breakfast?
Tuesday, Dec 8, Rough road to Vieng Phuka
By morning it was clear and sunny again. I walk over to the bus terminal where Aaron and Nirit are waiting already. Another traveller from Israel joins us and we get on the old Russian army-truck. The price to Huayxai is 30.000 Kip. At first I think that would be far to much, but the locals pay the same price.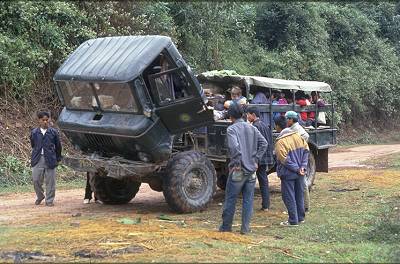 Russian army truck: only minor breakdowns

We leave Nam Tha at 9.30, packed with passengers, big bags filled with vegetables, heayy sacks full of rice, small cages with chicken and a pig. After yesterday's rain the narrow road is terribly difficult. We have to pass knee-deep mudholes and are glad to have a four-wheel drive. Without it, it would be impossible today. At a steeper passage we have to get off and push. About a dozen times we stop to fill up water and oil. This engine almost needs more oil than fuel ! At one of our minor break-downs we have to fix a spark plug, wrapping it up with a thin metal sheet and hammering it into the motor again. Perfectly done! Our driver is quite experienced, he stays cool even when we almost overturn with the whole truck. At 5 pm we reach the small village of Vieng Phuka, where we have to stay for the night. Our truck driver is the owner of a basic guesthouse here and he stops right in front of it, what a coincidence ! It took us eight hours to do about 100 km, that's 12,5 km per hour, not bad...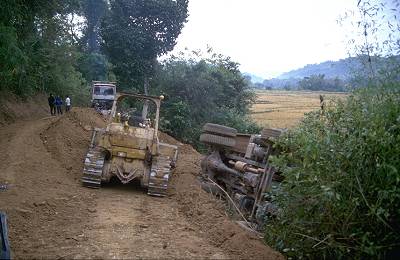 Yesterday's bus didn't make it...

In Bangkok I bought a sheet with about 30 different little Snoopy stickers and I decide it's now the perfect place to give them to the cute children playing on the street. The effect is impressive. They are a bit shy at first, but then I see myself surrounded by maybe 40 little hands grabbing for my dogs. I distribute them one by one after demonstrating how a sticker "works". What a fun! Together with the family of our driver we watch the Asian Games on Thai TV (they have a large satellite dish in the garden).



Wednesday, Dec 9, Huayxai - Chiang Khong - Mae Sai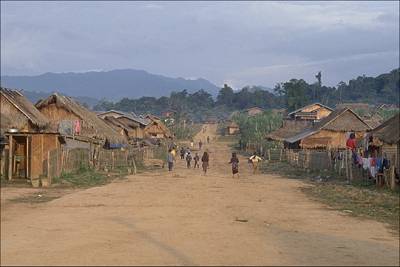 Main street in Vieng Phuka

Still 100 km lie ahead, but today the road is much better. There are less people on the truck and we have, compared to yesterday, a very pleasant ride. We are still in an amazing jungle, the weather is good today. We stop for lunch in a small village and taste another version of foe. We arrive in Huayxai at 5 pm, much later than we expected. The others stay here for the night, I want to cross the border and head on to Bangkok the next morning. I give my last 1.000 Kip to a moto driver to bring me from the market to the passenger ferry. The ferry landing is just below the Manilat hotel. A small immigration office is next to the ferry and it takes just one minute to check out from Laos. I wonder if there would be any problems on the Thai side without this stamp? The ferry actually is a small longboat, for 20 Baht we cross the Mekong. Goodbye Laos, I hope to be back soon! Back on Thai soil, I quickly realize that I'm back in civilisation again. At the immigration desk I have to wait in a long queue of Belgian package tourists who just arrived with a minibus. There is no more bus service today to Bangkok or Chiang Rai, so I walk down the main road and try to find a guesthouse. I want to check out the area at the bus terminal, still a long way. There are no guesthouses at the terminal and I go back to the center. From a passing-by pickup a young woman asks me where I want to go. They give me a lift to the next guesthouse, not far away. She introduces her friends to me, two woman and a man. They are from Chiang Mai, students, a doctor and a nurse who are on a trip.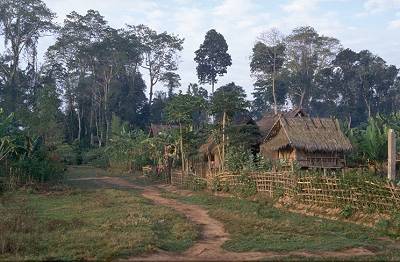 Vieng Phuka backstreet

I tell them about my route and they offer me to go to Mae Sai together. Why not? From Mae Sai it's not far to Chiang Rai and maybe it's going to be a funny trip. It is. Their English is quite good and we have much fun on our way to Mae Sai. I sit in the front with Nuek, Nong, Sa and Kung are in the back. Kung, the nurse, is 28 and seeking a foreigner to marry her. I politely decline...What a difference a good road makes ! In only one hour we reach Mae Sai and have dinner together. A foodstall at the main road offers fantastic pad thai and sate. I want to invite them, but they already paid for me, they are really nice. We take two rooms at the Mae Sai Plaza Guesthouse, a number of simple bungalows gathered on a hill.



Thursday, Dec 10, Bus to Bangkok
From the guesthouse we have a nice view, overlooking the Burmese village on the other riverbank. My bus to Ching Rai leaves at 8 am. Nuek takes me to the bus terminal, which is quite far out of town. I say goodbye to him and get on the bus. At 10 am, there is another bus from Chiang Rai to Bangkok. No aircon, that's good. The price is 162 Bt. for the 13-hour ride. I take a seat near the backdoor where I can put my legs on the backpack, quite comfortable! A boring ride as regards scenery, nothing much to see except a beautiful sunset. We stop several times at crowded and loud bus terminals, always a good opportunity to pick up some snacks.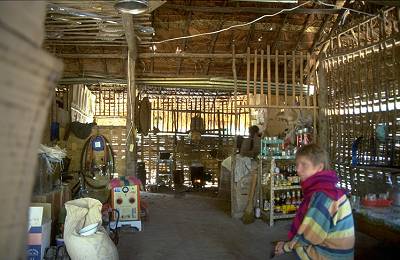 Lunch stop in a small restaurant

From the BKK northern bus terminal I take another bus and arrive at Sanam Luang at midnight. Because of my dislike of Kao San road, I try to find a room in the small road behind the wat. Not easy at midnight, the places I check out are already closed or booked out. Finally, I end up in the Sawasdee hotel (not Sawatdee GH). The girl at the reception smiles: "No rooms, sorry", but she can arrange something for me. A tuk-tuk brings me to a nearby massage parlor, where I can get one of the massage-rooms with aircon and TV for 250 Bt. They even have a hot shower here. Seems to be a way for them to make some extra money. After the long busride I fall asleep quickly.

Friday/Saturday, Dec 11+12, Bangkok
In the morning I move to one of my favorite guesthouses at the National Library. I check in at the Sawatdee, where I'm welcomed very friendly again, it's a little bit like coming home. I spend a busy day with sending e-mails, wandering through various shopping malls and markets and enjoying the variety of good Bangkok food. I take the bus down Sukhumvit road to my tailor and pick up my new suit. Looks like he did a good job. Saturday, I visit the newly opened restaurant at the Bayoke II tower. From the 78th floor I have an excellent view while enjoying the mixed european/asian buffet lunch. I take the express ferry back to my guesthouse and check out. Bus 59 is really fast today, only 1,5 hours to the airport. I spend the remaining time until departure in the BA Executive Club lounge. The big headline in the Bangkok Post reads: "Thai airbus crashed in Surat Thani". The crash happened last night, after two previous failed attepts for landing in bad weather. Some of the passengers survived, exact figures were still not known. I have more luck with my flight back. After sleeping most of the time, I reach the European winter again.


That's the end of my story, I hope you enjoyed it. If so, please Vote for the Laos Pages in the Top Travel Pages hitlist. Of course I'd like to read your comments or to answer your questions. If you have useful info for other travelers to Laos, why not share them iny guestbook?

If you go to Laos, remember that we are only guests (from a different world). Please help to preserve the friendliness and dignity of the country and it's people.

Bernie



Please link to the Laos Pages. Here's a banner for you. Click for more info.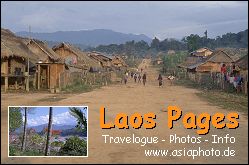 ---

Overview
Photo Licensing
Top of page
---