Laos - Land of the Million Elephants
A travelogue written by Bernhard Heiser
www.asiaphoto.de > Laos Pages > Travelogue

---
part 4: Luang Prabang
Wednesday, Dec 2, Luang Prabang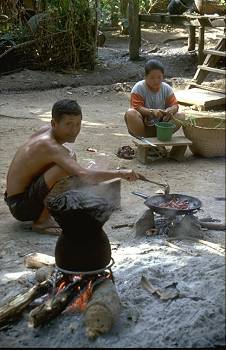 open air kitchen

Breakfast in the Luang Prabang Bakery with Udo and Gabi. Westerners usually converge here at this time of day, almost all tables are occupied. Ken comes along, who tried to find me at my guesthouse. We decide to explore some places across the Mekong river today. At half past ten I wait for him at the small pier, where small longboats wait for passengers. The boat fills after short time and we go for 300 Kip each. The sun burns hot from an almost cloudless sky, when we walk through the little village on the other riverside. 2nd december is Lao National Day. This celebrates the 1975 victory of the proletariat over the monarchy. Lao national flags are flown everywhere, even in this small, poor village there is one at each house. People are preparing food in front of their houses, cooking on open fires. There is no electricity here. We climb a hill, where Wat Chom Phet is located on top, and enjoy the view on Luang Prabang and the Mekong. At Wat Long Khun, which is not far away, we talk with two young Lao girls (Ken is translating) who are visiting the temple. Back in the village we find a small restaurant where noodle soup is served. We add more spices to the soup and ask for some water. There is no more ice. Back on the Luang Prabang side, we meet a journalist from Norway, who is writing about fishing in the Mekong and wants to make pictures of fishermen, but cannot find any. Ken suggests him to rent a boat very early in the morning.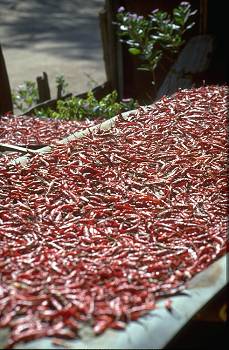 Drying chillies

On the edge of town, perched above the riverbank, is Wat Xieng Thong, Luang Prabang's most magnificient temple, built by King Setthathirat in 1560. A quiet place with only a few tourists. Just to the right of the entrance is a gold-faced pagoda. The perfectly polished gold facade depicts scenes from the Ramayana. The main sim represents classic Luang Prabang temple architecture. The roof is terraced so that each level sweeps down and reaches out farther than the last. At the rear wall I take a picture of the impressive "tree of live" mosaic. Another mosaic on a smaller temple, made of polished glass and stones, depicts local village life and magically reflects the sunlight. Inside a house near the east gate I admire a 12m-high funeral carriage.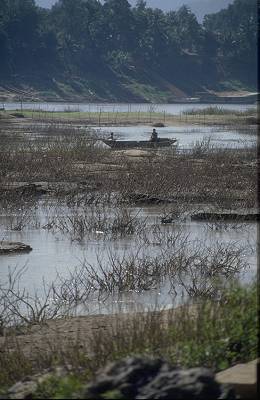 Fisherboat on the Mekong

Before leaving the temple complex I pay my 1.000 Kip admission fee and walk down the steps to the river. A boatman offers me his sunset-trip, but I'm not interested. Instead we talk about his business with tourists. He is a former army soldier and learned to steer a longboat some years ago. He 's glad to earn his money in a more peaceful way now and is very optimistic about his country's future. Learning English is one of his daily activities. He offers his trip every day at 5 pm.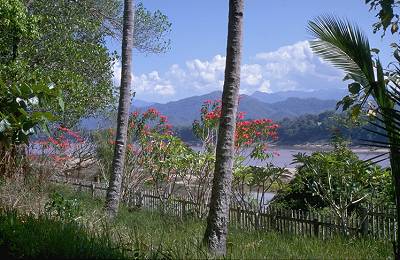 View from Wat Long Khun
Tree of life mosaic, Wat Xieng Thong

At 7.30 pm I meet again with Udo, Gabi, Aaron and Nirit. Today we have dinner at the Villa Santi, a hotel owned by the Crown Princess Khampha. In 1991, the government returned the building to her, and she and her husband renovated it and decorated the place with Lao art and antiques. We sit down at a nice terrace overlooking the garden. The menu is in Lao, French and English, main courses are from US$ 2,50 to 4,50, a lemon juice costs US$ 1. We are the only guests (at least on the terrace). Furnishings and service are excellent, there is classic music playing in the background. I order a soup and rice with chicken and ginger. The food is not bad (very mild though), but somehow we expected to get something more special in this place. Later we visit another french restaurant (La cave?), which turns out to be a popular place to drink cheap Beer Lao. It comes in large jugs of 1,5 liters for only 4.500 Kip. We share a few of them and have a look at my map. Nirit and Aaron are planning to take a speedboat upriver, I'm undecided yet what to do. However, I abandoned my plan to go to Xieng Khong (Plain of Jars), because it takes a long time to get there and the road is still not safe. We heard that the area around Muang Sing in northern Laos is very beautiful, maybe I should go there?

---

Overview
Photo Licensing
Top of page
Next part