CAMBODIA BORDERCROSSINGS
www.asiaphoto.de
last update 2012, prices may have changed a bit
Dom Kralor / Veung Kham (Laos, "Mekong crossing")
You must have a Lao / Cambodian visa in your passport before you do this trip.
northbound:
The Khmer immigration officer at the border at Voeung Kham asks for 2$ (negotiable) for an exit stamp.
It's an easy ride by boat up to the border (30$for a small speedboat which carries up to eight passengers). It's possible to stay overnight in Voeung Kam.
southbound:
This Mekong River crossing is now also open in the Laos to Cambodia direction.
1$ exit stamp Laos, immigration 200 m up the road from the boat landing.
Speed boats leaving from Voeng Kham for about 20$
Cambodian immigration officers ask for 2$ tea money ( umm, fee for entry stamp)
Arrival in Stung Treng at noon
Alternative by road:
Land border crossing is open now in both directions. Public transport and visa on arrival available.
KOH KONG / HAT LEK (Thailand, "Cham Yeam crossing", overland)
from BKK Ekkamai busterminal bus to Trat (route 3)
Share Taxi (100 Bt) to Hat Lek (border, route 318)
Border closes at 5 pm
Visa upon arrival 1200 Bt (better get it in BKK!)
moto (50 Bt) to Koh Kong Town(10 km) important: use the new bridge. Don't use the small boats anymore
From the market in Koh Kong Town take a taxi to Phnom Penh (10$ for seat on pickup)
Minibuses to Phnom Penh leave from Otto's guesthouse around 8:00 for 550 Baht.
KOH KONG / HAT LEK (Thailand, Cham Yeam crossing, by boat)
PP to BKK
ac bus with AC from the central market in PP, departure at 7.30 am, 12.000 riels
motorcycle-taxi to the pier from the road
Departure of the boat from Sihanoukville to Koh Kong: 12am noon (modern Malaysian speed boat, 600 Bt/ 15$)
Inside the boat terrible videos and cold air condition. you can stay on the "deck"
disembark in Koh Kong Town (not Island!), and take a taxi to the border (50 Bt)
(do not leave the boat at Ba Klong, you will be ripped off by the bathtub boat guys...)
Border closes at 5 pm
From Ban Hat Lek there is a minibus to Trat (100 Bt)
You usually can get the 6 pm bus to BKK, another bus is at 11 pm
BKK to PP
Bus from Ekkamai bus terminal to Trat. If you travel by night, you can do the trip in 1 day.
minibuses to Ban Hat Lek start at 6 am
The border opens at 7 am, border closes at 5 pm (beware of the visa spam and get it in BKK!)
Then you'll take a local taxi across the river and arrive in Koh Kong.
If you travel by day, stay overnight in Koh Kong.
8 am departure of the boat for Sihanoukville.
Around noon arrival in Sihanoukville
Around 3 pm arrival in Phnom Penh by collective taxi.
Road conditions 2002. Photo by A.Molon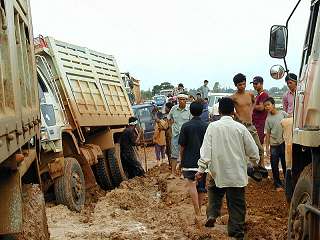 POIPET / ARANYAPRATHET (Thailand)
from BKK with skytrain or bus 3 to Morchit busterminal
Bus from Morchit to Aranyaprathet, 155 Bt 2nd class
Moto from Aranya busterminal to border (50 Bt)
Visa upon arrival 1000 Bt (usually a bit more, better get it in BKK)
Trucks / Pickups to Sisophon leave from roundabout (traffic circle) on the main street
check also 1 km further or at the market (moto 10-20 Bt) for leaving trucks
Price to Sisophon is about 50 Bt inside, 30 Bt in the back
Same prices for the link Sisophon - Battambang
The part of the road between Sisophon and Siem Reap is the worst, but much better than 2 yrs ago.
You can do the whole trip for 550 Bt with the Kaosan Road Mafia, but you will be forced to wait on various occasions and they ask for overprized visa fees. Not recommended.
From SR to BKK the bus ticket is now sold for $10. Expect to have many stops at restaurants...
O'SMACH / CHONG CHOM (Thailand)
The border in Oddar Meanchey province is open now! Bus from Surin to the border 30 Baht, about 2 hours. Visa on arrival 1.100 Baht. Transport via Samrong/ Kralahn to Siem Reap is possible by car or motorbike.
PAILIN / PONG NAM RON (Thailand, "Phsa Prom crossing")
The border is open since November 2003! Near Ban Pakard, Chantaburi province. From Bangkok, bus to Chantaburi for about 150 baht (4 hours). Mini bus to border for about 100 baht (1-2 hours). Cross border. Motodup to Pailin.
BATTAMBANG DAUN LEM / BAN LAEM (Thailand)
A small border town with a casino, not far from Pailin. I passed by during my trip from Pailin to Poipet. Now it seems to be open for international travelers. Cambodian visas available. Any reports of this one?
ANLONG VENG / SA 'NGAM CHOAM (Thailand)
This is about 15 km north of Anlong Veng. The crossing is located on the border of Bhusingh district of Sisaketh( Thai) and Anlong Veng district of Udar Meanchey (Camb). It is now an international crossing with visa on arrival.
BAVET / MOC BAI (Vietnam)
This bordergate at the popular route connecting Saigon and Phnom Penh issues Cambodian visas on arrival. The easy trip is offered by many companies in both cities. The trip usually takes about 6 hours barring traffic back ups at the Neak Loung ferry crossing.
KAAM SAMNOR / VING XUONG (Vietnam, "Chau doc crossing")
This crossing is on the Mekong river, 30 km north of Chau Doc town. Cambodian visas available at the border. Vietnamese visas NOT available at the border.
It is a long bus ride from Saigon/HCMC to Chau Doc (10-12 hours?). From there to the border its 40 minutes by boat on the Tien river.
From Phnom Penh, taxis or bus east on National Route #1 to Neak Luong. Then take a ferry down the Mekong to the Kaam Samnor crossing near Chau Doc. Stamp out of Cambodia, take a motorcycle taxi to Vietnamese Immigration, stamp into Vietnam, and then catch another motorcycle taxi into central Chau Doc a couple of kilometers away. There are guesthouses and hotels in Chau Doc. Mini-vans leave Chau Doc for HCMC regularly all day long when full.
TRAPEANG PHLONG / XA MAT (Vietnam, "Trapeang Phlong Border Pass")
New international border crossing since 2006 in Kampong Cham province, near Memot. The Ministry of Foreign Affairs reports that Cambodian visas available at the border. Vietnamese visas NOT available at the border. On the Cambodian side you have to organise your own transport either all the way from Kampong Cham or take first a Kratie bound bus to Krek and then a motorbike for the remaining 14 km to the border.
On the Vietnamese side there are regular public busses running to Tay Ninh a few hundred metres from the border.
DONG THAP (Vietnam)
April 7, 2004 - Another Vietnam - Cambodian border gate opened
Dong Thap, Dinh Ba-Bon Tia Chac Cray border gate between Viet Nam's Me Kong Delta province of Dong Thap and Cambodia's Prey Veng province, was inaugurated on Wednesday. After the inauguration, Dong Thap province will build Baley bridge across the So Ha River to facilitate transport between the two countries. Next to the border gate, the Vietnamese side had built Dinh Ba market at a cost of 7 billion VND (about 470,000USD), aimed to boost economic cooperation between the two provinces.
O'YADAW / LE TANH (Vietnam) (Banlung border crossing)
The border gate of Le Tanh east of Banlung has opened as an international border crossing 2002 in central highland of Vietnam. This border gate is located in Duc Co District, 75km from Pleiku City. You travel from Pleiku City along the highway 14, turn to highway 19, pass Chu Ty Townlet, across Le Thanh Border Gate to O'Yadaw in Ratanakiri Province of Cambodia. The visa on arrival for Cambodia is available at O'Yadaw Check Point, however it is not possible to obtain Vietnam visa at Le Tanh Border Gate.
PHNOM DEN / TINH BIEN (Vietnam)
Cambodian visas available at the border. Vietnamese visas NOT available at the border This crossing in Takeo province 10 km south of the city of Chau Doc is reported to be open since 15 September 2002. Useful if coming from Kampot or Kep.
From Phnom Penh, take a shared taxi from Phsar Domkor (Market Domkor) to Phnom Den in Takeo province ($8-$10.) Walk across the border to Tinh Bien, Vietnam. From Tinh Bien, take a motorcycle taxi or car taxi to Chau Doc about 10km north.
From Kampot, 2-3 hours by taxi to the border (Phnom Den). The taxi will travel through Kampong Trach district of Kampot province to the border crossing at Phnom Den. At Phnom Den, walk across the border to Tinh Bien, Vietnam. From Tinh Bien, take a motorcycle taxi or car taxi to Chau Doc about 10km north. The 'right price' is reportedly about $3, though drivers ask as much as $10. Mini-vans leave Chau Doc for HCMC regularly all day long around the central market area.
PREK CHAK / XA XIA (Vietnam, "Ha Tien crossing")
Now open for foreigners too (summer 2007), about 70 km from Ha Tien town. The border can be reached by motorbike from Kep in 20 minutes. Cambodian visas available on arrival at the border. Vietnamese visas NOT available at the border. There are conflicting reports about whether Cambodian E-visas are accepted. Border closes at 5 pm.
There are boats available from Pho Quoc island to Rach Gia or Ha Tien directly. From Ha Tien there is a road to Kampot, 5-10km of this road are a of potholed and muddy track. Overland travelers can now beach hop across Indochina without ever having to leave the coastal roads. The road from Kampot to the border crossing is, for the most part, in fair condition, taking about 1h15m-2 hours to traverse, though longer in the wet season. Take Route 33 east from Kampot to the intersection of Route 31 at Kampong Trach town. Turn south on Route 31. All but the last few kilometers to the border is sealed. There is also a shorter cut off road from Route 33 before Kampong Trach town. It is slightly shorter but the road is rough hardpack dirt, which deteriorates significantly in the wet season. A tuk-tuk to the border costs about $15-$20; a car taxi is $20-$25 for a private taxi and $5/pax for a shared taxi; and a motorcycle taxi to the border costs about $7-$8. Some motorcycle taxis from Kampot are also able to cross the border with you and take you as far as Ha Tien for an additional $2-$3. For those coming from Vietnam, motodups usually wait at the border crossing to take travelers to Kep or Kampot.