On this page:
Visa and Bordercrossing
Overland Travel
Destinations
Money
Accomodation

VISA AND BORDERCROSSING
updated: Nov 2006
While the government still officially limits travel to certain areas of the country, it is in practice not very difficult to venture outside of the designated tourist sites. However, it's almost impossible to get a bus ticket for these no-go routes. Be aware the high risk for anyone who sells you a ticket. The bus driver / ticket seller or his family might go to jail for this!
In Bangkok 28 day visas are issued in 24 hours if delivered in the morning. The visa fee is 810 baht. Hours for the visa section are 8.30 to 12:00 am, and 2.00 to 4.30 pm.
It is possible to CROSS OVERLAND. At the moment Tachilek is open for travelers with a valid visa in their passport. You may still be asked for FEC exchange, don't accept that or at least bargain hard. Wait until they offer a solution to you. You have time... There is some paperwork to do for your onward travel with public transport to Kyaing Tong. Don't pay the overprized taxi rides offered at the border. Take a motorbike taxi to the bus terminal (2-3 km north). From Kyaing Tong, you have to take a flight (to Heho, Mandalay, or Yangon). It's almost impossible to get a permit for the road to Taunggyi. If you are successful, let me know. Exit to China is also an option, if you have a Chinese visa.
BORDER RULES HAVE CHANGED? More and more people recently reported about problems with crossing the Tachilek border. Apparently the rules changed on October 1st 2006, when the immigration chief decided to no longer allow travellers to exit through Tachileik if they hadn't entered there. Travelers failed to enter Thailand without exit stamp from Burmese immigration. They had to go back to Yangon and fly out from there! Hopefully this change is only temporary.
Recent info from MTT: Entering Burma on a FIT visa at Yangon and exiting via Tachilek or Kawthoung is possible, requires applying for a $20 permit at the Yangon MTT office at least 10 days beforehand.
THE 14-DAY VISA at issued the Thai/Burmese border still seems to be possible. You should be able to visit Tachilek, Kengtung and Mongla. If you want to visit Mongla you must inform them at Tachilek (if you are entering there), otherwise it is not obtainable in Kengtung . Re-entering Thailand with the 14-day visa should not be a problem.
It's also possible to cross overland in the south coming from Ranong. The only way to reach cenral Burma is by air or ship, both expensive.
DAY VISITS are possible at the four crossings below. You have to leave your passport at the Burmese immigration until return. This is a convenient way to renew your Thai visa.
- Mae Sai opposite Tachilek
- Mae Sot opposite Myawady
- The Three Pagodas Pass between Sangkhlaburi and Payathonzu
- Ranong
AIRLINK YANGON-CHIANGMAI
Thai Airways offers this route since Dec 2003, the price for a oneway ticket is $85. A cheap way to leave the country by air if you entered overland. (Otherwise return tickets make more sense)

OVERLAND TRAVEL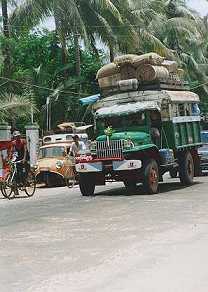 Overland travel can be hazardous, particularly in the rainy season (May-October). Roads can become impassable and bridges damaged in the heavy rains. The area south of Mandalay saw severe flooding in mid-2001.
BUS: Bus travel in Burma is cheap and on the main roads also fast. There are direct bus links between all major cities. Most routes are served by several private companies. Ask in your guesthouse for a recommended service and where to get the tickets. For long distance buses there are no tickets available on the bus, so buy before you go.
Even on some small and bad mountain roads (like the road to Kalaw and Taunggy) the big buses are used for long distance trips. This is slow, but makes the trip much more comfortable than with a pickup or small bus. Shorter distances (like Mandalay-Hsipaw) are usually served by smaller, old buses. They are normally very crowded with all kinds of cargo inside and on the rooftop.
Busterminals in Yangon: Sinmalike Bus Station: 5km NW from town, Mid-distance minibus or pickup stations. Get there with bus#34, from Anawrahta Rd. + Mahabandola Garden St.
Saw Bwar Gyi Gone Highway Station: 18km north from town, central bus station for long distance buses. Near the Airport. Buses to: Mandalay, Bagan, Taunggyi, Pyay leave from there. Get there with bus #51 or by Taxi (400 K). You can buy tickets with Kyats, very cheap compared to trains which charge foreigner prices. During rainy season conditions can get very bad, certain roads become almost impassable.
Most local buses leaving from around Sule Pagoda. Fare depends on the route. A/C bus costs double. You may be charged for your backpack. Don't take a/c bus during hot season. Since the A/C doesn't work, they keep the windows shut and it's very hot.
TRAIN: Most trains in Myanmar are dirty, crowded, and slow. You really have to understand that there is a real experience in the journey, not just in the destination, so sit back and enjoy! Some routes pass through stunning landscapes far away from roads and civilization. At stops in little villages vendors offer their food through the open windows of the cars. Fresh samosas, pineapple, banana, mango, rice cooked in bamboo. The main north - south route is from Yangon to Mandalay and Lashio, the main west-east route is from Thazi to Taunggy. Pathein, Moulmein, Tavoy, Pyay, Myitkynia, Loikaw can also be reached by train. Railway equipment is decrepit; there have been a few fatal rail crashes, most recently in June 2001 when the collapse of a railway bridge killed all the passengers on the Mandalay-Myitkyina train.
We took the train from Hsipaw back to Mandalay, crossing the famous Gorktheik viadukt and later in zig-zag mode down the mountains. It takes more time than the bus, but I can highly recommend this route!
In Yangon the train station is 15min walk north from Sule Pagoda. Tickets are available at foreigners' counter or go to the station master. Fare is expensive due to special foreigners fare.
BOAT: The trip from Yangon to Mandalay takes a couple of days and is usually an option for package tourists who need some luxury on a big ship. Shorter distances are preferred by most backpackers. We took the slowboat up the Thanlwin River from Moulmein to Hpa-An (2$, 4,5h) and the Sunday government slowboat down the Ayeyarwady from Mandalay to Bagan (10$, 14h). Boat travel can be boring after a while, so bring a good book.
AIR: Mingaladon Airport Yangon: 19km N from town. Airport Tax $10. Many taxis take you to hotels for $1/p on the way they try to sell tours or change money. To the Airport the taxi price is about 600 K. No bus service. You may go to bus station and take a taxi from there.
HIRED CAR WITH DRIVER: Expensive. Might be useful for some day trips or for a couple of days, if no public transport is available. I do not recommend to hire a car for the whole trip. Public transport is cheap and easy on the main routes, you get a better feeling for local life and have more interaction with locals. On the other hand, a car driver can also act as translator and guide, so choose a licensed driver who speaks reasonably good English. The price is somewhere between 30 and 60$ per day, bargaining required. We paid 20$ for a half-day trip with a minibus (6 passengers).

DESTINATIONS
Yangon (Rangoon)
The capital city of Myanmar is the most accessible place to start exploring the country. Yangon is a charming city, with wide streets and a lingering air of tropical and colonial decay. Although there are several points of interest in the city, the towering Shwedagon Pagoda literally stands above them all. Situated atop a hill that overlooks all of Yangon, this glittering temple is undoubtedly one of the most awe-inspiring structures in all of Asia. Its 100-meter spire, a construction that would make Donald Trump envious, is sheathed in eight thousand gold plates and crowned with more than five thousand diamonds and other precious stones. As one might expect, the Shwedagon Pagoda is the holiest of Buddhist sites in Myanmar.
A city of nearly 4 million, it has the atmosphere of a small, country town - huge trees spot the downtown and nature surrounds you. It has no "Capital City" aspects about it - except for the obvious traffic jams. There is shade and cool breezes throughout the city and, during the dry, dusty season, this is a god-send. But it is more than just nature and trees spotting the landscape - it is the slow pace, the friendly people, and the colonial architecture that make the difference.
Nightlife in Yangon? Hmm, well, there is some nightlife but compared to other Asian cities it is quite boring. Most restaurants close around 9 pm and bars (except for the Strand Hotel) close around 11 pm. If you are dying to go out, there are places to go so start early and head home early. Try a Burmese tea shop, have a hot cup of strong, sweet, milky tea and all the pastries you can eat....for almost nothing. Tea shops don`t seem to worry about the curfew and many are still open to early in the morning, as long as there are customers and they are drinking and eating.
Near Sule Pagoda you can find some 'pubs' with good food and draught Beer Myanmar. One cup is only 95 K and the taste is excellent.
Club Pioneer in the Yuzana Garden Hotel plays Techno and Disco. Even at a Tuesday night some (rich?) Burmese kids had fun on the dancefloor. Other popular locations are Club Europa in the Kandawgyi Palace Hotel or the Music Club in Hotel Equatorial.
Mandalay & The Deserted Cities
Tragedies have destroyed many of Mandalay's finest attractions, including most notably the massive wooden royal palace (which burned in the Second World War). Although Mandalay still contains many interesting pagodas and temples, it is now better known as a departure point for the surrounding deserted cities. In Amarapura, after a walk across the precarious U Beins Bridge visitors can enter the Kyauktawggyi Pagoda. Sagaing contains splendid examples of ancient Buddhist temples and a pagoda modeled on the breast of a queen. The ruins at Ava include the Maha Aungmye Bonzan monastery. Mingun, a few miles upriver from Mandalay, contains the ruins of what was to be the world's largest pagoda. It is also home to the largest uncracked bell in the world.
Bagan
To truly experience the splendor of ancient Burma, a trip to Bagan is a must. For over two hundred years, from 1057- 1287, the Burmese kings held court here. Generous patrons of the arts, they adorned their capital with literally hundreds of intricate Buddhist temples and monuments. Although the arrival of Kublai Khan brought the city to its knees, the construction to a halt, and the population to near extinction, Bagan's myriad temples remain.
Inle Lake Region
Inle Lake, curdled with lush surface vegetation, is the home of Myanmar's extraordinary leg-rowers. In order to navigate their way through the dense water-plants, the locals stand in the aft of their boats-not unlike Venetian gondoliers. However, rather than using a pole to propel the boat forward, the leg-rowers steady themselves on one foot while using their second leg to row. In addition to its unique mode of transport, Inle Lake is also known for its charming floating villages, Ywama and Phaungdaw, and its floating market.
These are only the major tourist destinations. To find out about my trip and all the other places, many off the beaten track, check out the Travelogue.

MONEY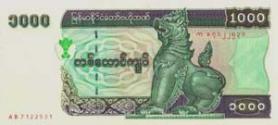 Up until Aug. 15 2003 - much to the annoyance of tourists - visitors were not allowed through immigration until they exchanged their cash for dollar-denominated FECs, which could then be spent on accommodation and other expenses.
``Since last Friday, the government has closed the two FEC counters at the airport and foreigners are not required to do their compulsory exchange of US$200 anymore,'' the airport official said on condition of anonymity. No official reason has been given for the change in policy.
The FEC system was introduced in February 1993 in an effort to stop tourists exchanging currency on the black market, where for decades the value of the dollar has been considerably higher than its official rate of about 6 kyats.
As most local retail prices were based on the official exchange rate, visitors were able to finance their stays in Myanmar at a low cost.
Until recently, most tourists lost little spending power by using FECs, because their black market exchange value was kept on a par with the black market exchange rate for real dollars.
However, over the past year the value of the kyat against the dollar has plunged to historic lows and the value of the FEC has failed to keep pace with that of the hard currency.
Exchange rate: 1$ = 900 Kyat (Dec 2003)
Example Prices (Dec 2000)
Room $3-$7/person
Food at restaurants 100-500 K
Noodle soup 30 K
Pancake 100-300 K
Tea / coffee 20-40 K
Snacks (tea shop) 5-20 K
Bottle drinking water (1/2 l) 35-50 K
Softdrinks (Star Cola, Crusher, Fantasy orange) 40 K
Lime juice, sugar cane juice 50 K
Myanamr Beer bottle (0,6 l) 280 K
Myanmar draught beer glass (0,3 l) 90 K
Toilet paper 35 K
Ice cream 25+ K
T-shirt 500 K
Postcard 15 K
Pickup ride (inner city) 5-20 K
Trishaw ride 50-300 K

ACCOMODATION
Hotels and guesthouses in Burma usually are not very expensive: $4-10 for good rooms with breakfast. However, depending on your budget you can easily spend US$200 - per day for 5 star accommodation in bigger cities.
More info needed?
Check out the Country Facts Page. I also recommend to get up-to-date information from travel newsgroups like rec.travel.asia.
On my Linkpage you can find a choice of Asian magazines and newspapers.
For additional or updated info please email your experiences. Do you run your own travel or photo related site? Why not exchange links? Please feel free to give comments or useful info for other travelers by using my guestbook. More info will be added to this page regularly, so visit again!