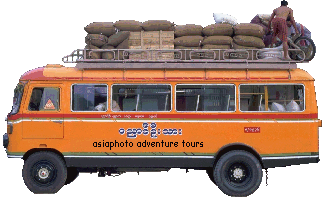 Welcome to Asiaphoto, a personal travel site about photography and my backpacking trips to Thailand, Laos, Cambodia and Burma, including general information, travel tips, links and many photos. The Thailand and Indonesia Galleries show impressions of my trips there in 1993 and 1995, the South Laos Gallery was made after my trip to the 4000 islands in 2002. My recent trips were to South India (Tamilnadu and Kerala) in 2010 and Rajasthan in 2011. Now take some time, relax, and follow me on a fantastic trip through Asia.
South India
The fascinating trip to Tamil Nadu and Kerala
Rajasthan, Delhi & Agra
1 month backpacking in northern India, including Delhi and Taj Mahal
Laos Pages
With South Laos and Nam Ou river galleries
Cambodia Pages
New photos from Rattanakiri and Pailin
Burma Pages
New photos: Burma from East to West, Kyaingtong to Mrauk U
A s i a p h o t o S p e c i a l G a l l e r i e s
with Phuket and Bangkok Photos
| | | | | |
| --- | --- | --- | --- | --- |
| Thailand | Indonesia | South Laos | Taj Mahal | Food Center |
| Bangkok | Burma 1 | Burma 2 | South India | Rajasthan |
TRAVEL LOG
Preah Vihear
From Siem Reap I took a motorbike wih driver to check out the new road to Preah Vihear. The part from Banteay Srey to Anlong Veng (94 km) was really bumpy. After an delay of 1 hr (flat tyre) we reached the old Khmer Rouge stronghold at lunchtime.
The new road is fantastic, all bridges are finished now. It was possible to do the 107 km to Preah Vihear in less than 3 hours! It is now possible to access the mountain with a 4WD, but for or small bike it was to hard...We reached the mountaintop before sunset and had a quite evening there, after all the Thai tourists had already gone. Some Khmer who work there provided us with a simple room for the night. Except us and 6 young guys from Phnom Penh there were no overnight visitors.
PV at sunrise is an incredible sight. I had the whole temple for myself for about 2 hours, until the first drink stalls opened. Time for us to go back. We reached Siem Reap at 5 pm.
Did you ever visit Phuket, Mandaly in Myanmar or Bangkok? Even in Pattaya there are still some magic places to discover. Photos of the Vietnam trip will follow soon. The island Koh Samui is a great place to relax. Are you looking for a great asia shop near home?
BERNIES BIKE BLOG
The new blog on Asiaphoto. The plan is to travel to Asia on a motorbike, all the way from Germany. (blog in German language)
What's new on Asiaphoto?
300 new photos of the recent trip to Rajasthan are on the site now! Join me to explore marble palaces and sandstone forts, colorful markets, or simply enjoy a camel trip into the desert.
The Burma Slideshow has been improved with bigger photos and new layout.
The Laos Nam Ou Gallery is online now after the recent trip up the Nam Ou river and across the mountains to Vietnam.